Gamification and other interactive tools have the ability to take retailers' analytical (and engagement) capabilities to higher levels.
Retailers that may be hesitant should be aware that they don't need to leap directly into a complex campaign. "Gamification can be as simple as showing a progress bar or noting when someone moves from silver to gold status in a rewards program," said Bornac. "It doesn't have to be as complicated as a multi-stage scavenger hunt. In fact, customers don't always know there's a game going on, but they react to these inputs very well. Retailers that are plugged into this know that in all their communications with customers, there should be some element of reward to the conversation."
As an example Bornac cited Nike's program that allows customers to use the graphics-oriented Instagram network as a tool to customize sneakers. "It doesn't have to be complicated, but it does have to elicit a response."
Following are examples of four successful proactive programs leveraging social media:

Starbucks Incorporates Mobile
As with anything else in retail today, the mobile component is critical. To drive digital sales of its ground coffee products, Starbucks invited Twitter users to take a quiz designed to discover which coffee flavor is best suited to their tastes, and then to click through to a mobile-optimized shopping site to purchase a bag.
The retailer is using Promoted Tweets with a link to its three-question Coffee Finder quiz. First, users are asked which flavor entices them the most, with options including savory, fruity, toasted or caramelized. Next, they are asked about preferred sensations (crisp, smooth or lingering). The final question probes how intense drinkers like their coffee, ranging from subtle and soft through medium and balanced up through intense and robust.
Test-takers are then brought to the shopping section of Starbucks' mobile site where their individual results are displayed. They can read about the suggested flavor and its place of origin before pressing the "Shop Online" button at the bottom of the description.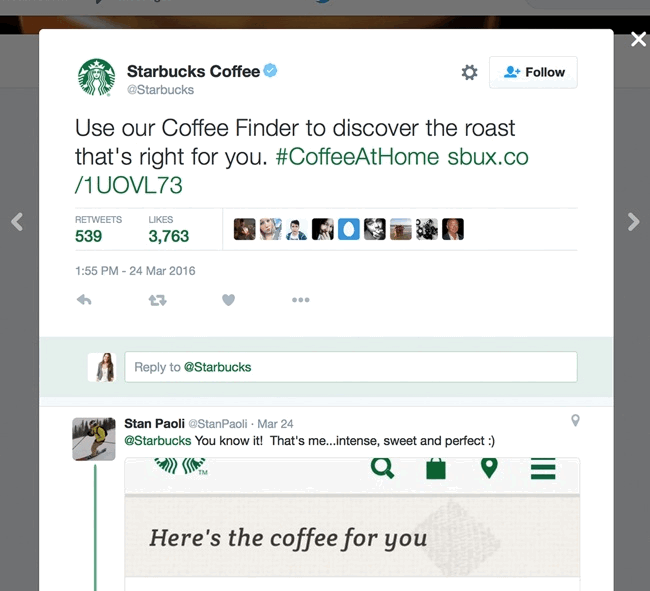 Casper Emphasizes Shared Experiences
Online-only bedding retailer Casper focused on the shared experience of dealing with hangovers from too many holiday parties, asking its New York City-area customers to share party photos via social media using the @casper tag and the #holidayhangoverhelper hashtag. Winners were alerted with a tweet or Instagram comment, from which Casper determined their delivery address. Winners then received 50 hangover-reducing Black Seed Bagel egg sandwiches, orange juices and coffees delivered fresh the next morning.
The retailer also solicited pictures and videos of customers unboxing their new mattresses. To accommodate New York City's narrow hallways and numerous walk-up apartments, Casper compresses its mattresses into 41" x 21" x 20" boxes. Some of the unboxing videos have received up to 70,000 views on YouTube. Casper was honored with a Retail TouchPoints 2015 Customer Engagement Award for its programs.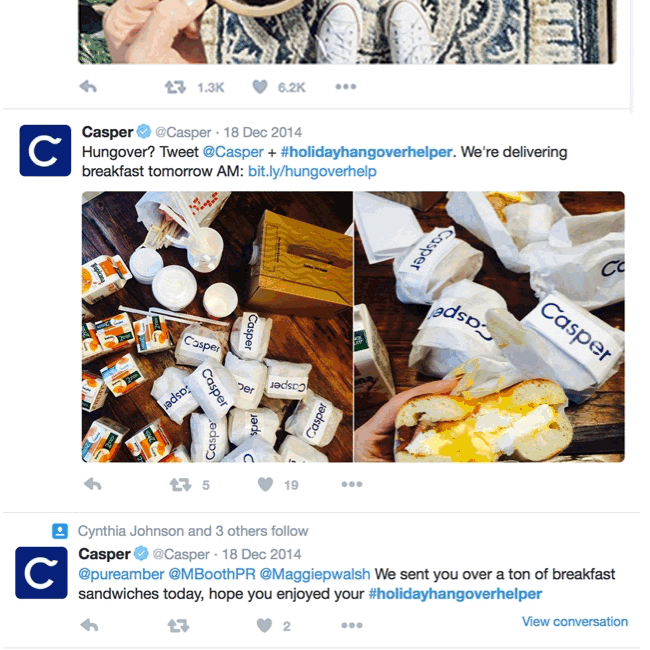 Forever 21 Simplifies Social Purchasing
Forever 21 has 5.4 million followers on Instagram and receives as many as 100,000 engagements with any given image it posts, making it one of the most popular apparel brands on the network. The retailer leveraged the only active link on Instagram (i.e. the link in a user or brand's profile) to turn its photo feed into a gallery of shoppable products using the Like2Buy tool from Curalate. Because the tool works retroactively, Forever 21 was able to link existing Instagram images to product URLs, immediately driving traffic to its mobile site.
In the first two weeks after implementing the solution, Forever 21 generated:
47,600 visits to the gallery;
38,000+ outbound clicks from Like2Buy to their web site; and
An 80% click-through rate.
During this period, Forever 21's Instagram audience became more engaged with the brand. Mobile visitors referred from Instagram averaged 19% more page views and 24% more time on-site than the brand's average mobile user.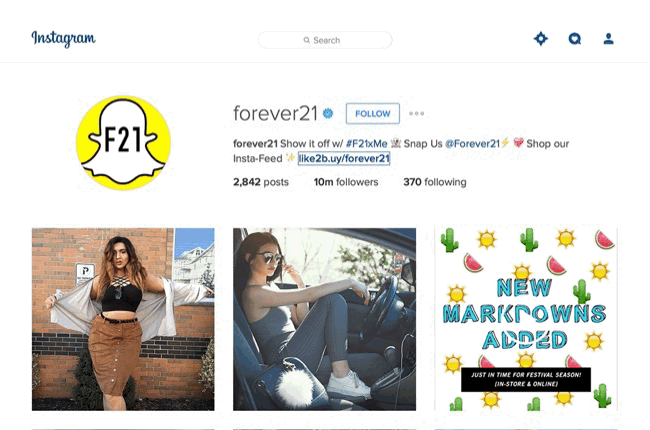 Frito-Lay Calls On Consumers' Creativity
Frito-Lay has conducted its "Do Us A Flavor" contest annually since 2012, asking consumers to submit location-inspired flavor ideas for its Lay's potato chips. The winning flavor is put into production, with the winner pocketing $1 million or 1% of the product's net sales for a given period, whichever is higher. (Hailey Green was the 2015 winner, for Southern Biscuits and Gravy).
Use of social media (along with other promotional channels) helps the brand generate "a tremendous number of submissions," said Jerry Sheldon, Analyst for IHL Group. "This accomplished a number of things for them. It showed that this brand cared about these people as individuals but also promoted their sense of community by sparking people's creative juices — and it also gave Lay's a new product.
"By taking a multi-pronged approach to their advertising and promotion, Lay's was able to engage not just with people who liked their product, but even with people who didn't already have an affinity," said Sheldon in an interview with Retail TouchPoints. "They brought up brand awareness and also linked themselves with innovation in people's minds."